<![if !vml]>

<![endif]>

METRACE-Methionine chelated Trace Minerals as Copper, Iron, Zinc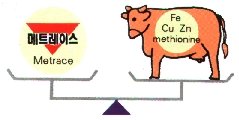 TMC's chelate trace minerals, METRACE, will greatly
enhance of the mineral absorption by preventing its
conversion to insoluble compounds and colloids in the
intestinal tract.
 
100% water soluble

High available component

 

Zinc 5.0%, Methionine 11.3 %

Zinc 10.0 %, Methionine 22.6 %

Zinc 16.8 %, methionine 38.0 %

 
 

3ppm max. of As, 10ppm max. of Cd, 20ppm max. of Pb, and Mercury free.




 
* All catalog pages are in Adobe PDF format and can be read using Adobe Acrobat Reader.

Trace Mineral Chelated in TMC Co.,Ltd !
Trace Mineral Company !